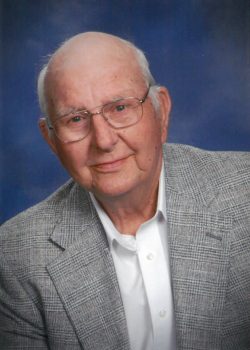 Edwin Kenneth (Kenny) Amundson of Clermont, Iowa, passed away on April 5, 2017, at the age of 87. He was born on the family farm outside of Clermont on July 11, 1929, to Ole and Nina (Loftsgard) Amundson.
He was a lifetime member of West Clermont Lutheran Church where he was baptized, confirmed, and married. Kenny graduated from Clermont High School where he played basketball. His senior five-member team came up one game short of going to the State tournaments that year.
Kenny served his country overseas in Korea during the Korean War as a Corporal Army Medic in the 25th Division Medical Company 35th Infantry Regiment. He was drafted in January 1952 and was honorably discharged on October 1953. He received the United Nations Service Medal, Overseas Bar, National Defense Service Medal, Korean Service Medal with two bronze service stars, two Combat Medical Badges and a Good Conduct Medal. He was honored in 2001 with a commemorative medallion signifying the 50th anniversary of the Korean War. He served the American Legion Post #375 for sixty-six years.
He married his high school sweetheart, Ruth Westpfahl, on August 28, 1954. To their marriage, they were blessed with seven children, twenty grandchildren, and eleven great-grandchildren. Kenny was a dairy farmer outside of Clermont until retiring in 1999. One of his favorite sayings was, "It's 3:00 and it's time to go feed the calves". After retirement, Kenny and Ruth moved to Clermont where he was able to spend time with family and friends.
He continued his education by enrolling in "Sylvan's Learning Center" (Men's Coffee Club). He was a member of the Classic Tractor Club and enjoyed working on and driving his John Deere A tractor around the community.  He served his community by serving on the Valley Co-op Board, the Gunder Cheese Factory Board and the West Clermont Lutheran Church council.
He is preceded in death by his parents Ole and Nina Amundson, sister and brother-in-law Norene and Gordon Landsgard, brothers and sisters-in-law Almer and Marjorie Amundson, Morris and Hildur Amundson, Arthur and Norma Amundson, Clarence Amundson, Clifford Amundson, who died in infancy, and son, Kevin Amundson.
Kenny is survived by his wife, Ruth of sixty-two years, and children Kurtis (Deon) Amundson, Rochelle (Lonnie) Holthaus, Roxanne (Lee) Gross, Leslie (Luann) Amundson, Colleen (Mark) Dinan, and Carolyn (Marty) Nuss. Grandchildren include Laura Tudahl, Robert (Rose) Amundson, Paul (Angela) Amundson, Mitchell (Rachel) Amundson, Mason (Laura) Amundson, Jeremy Holthaus, Joshua (Courtney) Holthaus, Jonathan Holthaus and fiancée, Gena, Stephanie (Travis) Taggart, Anthony Gross and fiancée, Chelse, Nicholas Gross and friend, Amanda, Tasha (Jeremy) Massman, Tyler (Christy) Amundson, Brittany Amundson and fiancé, Chris, Joseph Dinan, Kaitlin Dinan, Allison Nuss, Morgan Nuss, Lauren Nuss, and Kirsten Nuss. Great-grandchildren are Megan Tudahl, Jordan Tudahl, Miles Amundson, Kendall Amundson, Lucas Amundson, Wyatt Amundson, Brantley Holthaus, Arden Taggart, Ina Taggart, Kylah Massman, and Brecken Massman. Other survivors include sister-in-law, Johanna Amundson and many nieces, nephews and friends.
Visitation will be from 2-6 pm on Sunday, April 9, 2017 at West Clermont Lutheran Church, Clermont, Iowa. There will also be a one hour visitation before services at the church on Monday.
Funeral Services will be at 11:00 am on Monday, April 10, 2017 at West Clermont Lutheran Church, Clermont, Iowa with Rev. David Schafer as the Officiant.
Burial with Military Rites will follow at Gods Acres, Clermont Iowa.
Schutte-Grau Funeral Home and Cremation Service of Clermont, Iowa is helping the family with arrangements.