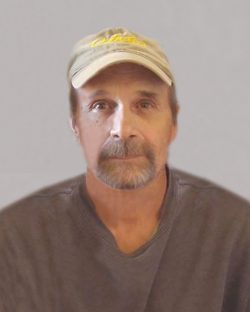 Douglas Eugene Ihde, 64, of Monona, Iowa died Sunday, June 18, 2017 at Veterans Memorial Hospital, Waukon, Iowa following a long battle with leukemia. Douglas Eugene was born April 21, 1953 to Eugene W. and Charlene C. (Vaughn) Ihde in McGregor, Iowa. He was baptized and confirmed at St. Paul Lutheran Church, Monona, Iowa. Doug attended M-F-L Community School in Monona, Iowa
Doug lived most of his adult life in the Monona area.  He farmed on the family farm in the early years, worked as a heavy equipment operator and as a carpenter. Doug also had a lawn mowing business for many years. He worked hard, believed in honesty and integrity and was a true gentleman. Family was most important to him. Doug participated in softball and bowling leagues, rode motorcycles and especially enjoyed hunting with his uncles and cousins, and fishing with friends. He was a man of few words, which always made his quick wit and sense of humor a delightful surprise.
Doug was united in marriage with Cindy Childs in 1972. To this union four children were born. They later divorced.
Doug is survived by his fiancé, Cheryl Smola of Monona, Iowa; four children, Kimberly (Troy) Helmrichs of Petersburg, Iowa, Derrick Ihde (Christine Clang) of Marquette, Iowa, Kory (Lori) Ihde of Prairie du Chien, Wisconsin and Kelsey (Daniel) Eickelberg of Waukon, Iowa; seven grandchildren, Austin, Lexi, Lily and Kloe Ihde, Aiden Helmrichs and Cameron and Cael Eickelberg; one sister, Denice White of Postville, Iowa; nephews, Dennis (Amy) Millage of Cresco, Iowa and Lucas (Jessica) Millage of Grimes, Iowa; and a host of family, friends and neighbors. Doug was deeply loved and he leaves all who knew him the better, for the privilege of his presence.
Doug was preceded in death by his parents, Eugene and Charlene Ihde; grandparents, Herbert and Edna (Krambeer) Ihde and Charles and Harriet (Cahalan) Vaughn.
Visitation will be 4-8 pm Thursday, June 22, 2017 at Leonard-Grau Funeral Home and Cremation Service, Monona, Iowa. There will also be a one hour visitation before services at the church on Friday.
Funeral Services will 11:00 am on Friday, June 23, 2017 at St. Paul Lutheran Church, Monona, Iowa with Rev. Erika Kielstrup as the officiant.
Burial will be at St. Paul Lutheran Cemetery, Monona, Iowa at a later date.
Leonard-Grau Funeral Home and Cremation Service of Monona, Iowa is helping the family with arrangements.