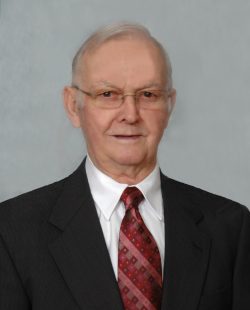 Kermit C. Anfinson, 90, of Ossian, Iowa died Monday, July 17, 2017 at Ossian Senior Hospice, Ossian, Iowa. Kermit was born August 17, 1926 to Otto and Thelma (Torkelson) Anfinson in rural Ossian, Iowa. He was baptized September 19, 1926 and confirmed July 7, 1940 at Stavanger Lutheran Church, rural Ossian, Iowa. Kermit graduated from Ossian High School in 1944. After graduation, he joined the United States Navy during WWII and served until 1946. During his time in the Navy, Kermit served on the USS Polana Amphibious ship in the South Pacific.
Kermit was united in marriage with LaVonne Schwinefus on December 13, 1947 at Stavanger Lutheran Church. He worked as a manager for Union Produce Coop for over forty years, retiring in 1989. After retirement, Kermit took on part-time jobs that gave him great enjoyment including Reilly's Tree Farm and Schmitz-Grau Funeral Home. Kermit enjoyed fishing, playing cards, golfing and working outside with yard work. He was a Chicago Cubs and Iowa Hawkeye fan.  He was very active in his community, he served on various boards at Stavanger Lutheran Church, he also served many years on the boards for Oneota Care Center and the Midland Coop. He was a long-time member of the American Legion, he was fortunate enough to have the opportunity to go on the honor flight to Washington DC in September of 2011. He was also a volunteer fireman for the Ossian fire department for many years. Kermit loved spending time with family and grandchildren and great-grandchildren. Kermit also enjoyed spending time with his "coffee group" at Bambinos.
Kermit is survived by his wife, LaVonne Anfinson of Ossian, Iowa; three children, David (Linda) Anfinson of West Des Moines, Iowa, Gary (Kari) Anfinson of Denver, Iowa and Sherry (Jim) O'Dell of Barrington, Illinois; six grandchildren, Jennifer (Chad) Feeney, Marc (Mindy) Anfinson, Sara (Jason) Goodman, Kaia (Justin) Piggott, Abby (Jordan) Zaputil and Ashley O'Dell; nine great-grandchildren, Jack and Ava Feeney, Macy Anfinson, Quinn and Nixon Goodman, Bennett Piggott, Zearley, Zaylin and Zaith Zaputil; one brother, Kenneth (Karlene) Anfinson of Ossian, Iowa; and one sister-in-law, LaRue Pennell of Grimes, Iowa.
Kermit was preceded in death by his parents, Otto and Thelma Anfinson; and his three brothers, Ahlert. Ernie and Wayne Anfinson.
Visitation will be Friday, July 21, 2017 from 4-8 pm at Schmitz-Grau Funeral Home and Cremation Service, Ossian , Iowa and one hour before services at the church on Saturday.
Funeral Services will be at 11:00 am on Saturday, July 22, 2017 at Stavanger Lutheran Church, Rural Ossian, Iowa. The Rev. Terry Landsgaard will be the Officiant.
Burial will follow at Stavanger Lutheran Cemetery, Rural Ossian, Iowa with Military Rites.
Schmitz-Grau Funeral Home and Cremation Service, Ossian, Iowa is helping the family with the arrangements.