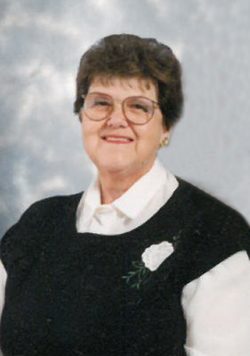 Lydia Murphy, 88, of Clermont, Iowa died Wednesday, August 2, 2017 at Stoney Brook Village in West Union, Iowa. Lydia Chrystol was born December 4, 1928 to Clarence and Lydia (Anderson) Thorson at the family home in Clermont, Iowa. She graduated from Clermont High School in 1947.
Lydia was united in marriage with Gerald Schneider on February 27, 1949, six children were born to this union, and they later divorced. She was then united in marriage with Eugene Murphy on March 1, 1975.
While young, Lydia worked for Baechlers Dry Goods. Lydia was always busy on the farm and would haul can milk. Throughout the years she worked as a CNA at Methwick Nursing Home in Cedar Rapids, Home Health in Cedar Rapids, for Nordec, in Waukon, Iowa and Good Samaritan Society in Postville, Iowa. She enjoyed writing in her journals, making comforters for her grandchildren and traveling, especially her trip to Turkey.
Lydia is survived by her six children, Dave (Joanne) Schneider of Postville, Iowa, Ed Schneider of Clermont, Iowa, Karen (Dave) Roberts of Palo, Iowa, LuAnn (Jeff) Alber of Ossian, Iowa, Gary (Lisa) Schneider of Elgin, Iowa and Melinda (Brian) Schroeder of Clermont, Iowa; four step-children, twins Debbie and Danny Murphy and twins, Dennis and Donny Murphy; sixteen grandchildren, forty great-grandchildren; thirteen step grand-children; sister, Elaine (Enis) Elagoz of Izmir, Turkey; and one brother, Roger Thorson of Elgin, Iowa.
Lydia was preceded in death by her husband, Eugene Murphy; grandchildren, Layne Schneider, Dustin Roberts and Chad Roberts; two step-children, twins Patty and Tim Murphy; her parents, Lydia Thorson and Clarence Thorson; step-mother Lillian; and her brother Jerry Thorson.
Visitation will be 4-6 pm on Sunday, August 6, 2017 at East Clermont Lutheran Church, Clermont, Iowa. There will also be a one hour visitation at the church before services on Monday.
Funeral Services will be at 11:00 am, Monday, August 7, 2017 at East Clermont Lutheran Church, Clermont, Iowa with Rev. Ron Roberts as the officiant.
Burial will follow at East Clermont Cemetery, Clermont, Iowa.
Schutte-Grau Funeral Home and Cremation Service of Clermont, Iowa is helping the family with arrangements.