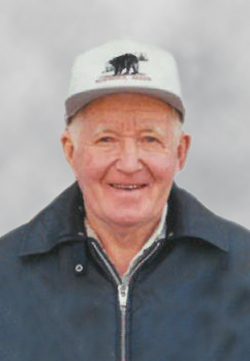 Harlen Stuckey, 91, a lifelong resident of Prairie du Chien, Wisconsin, passed away peacefully surrounded by family and friends on November 19, 2017 at Great River Care Center, McGregor, Iowa. Harlen Henry was born March 7, 1926 to Frank and Lillian (Zweifel) Stuckey in Prairie du Chien, Wisconsin. He graduated from Prairie High in 1943. In 1947 Harlen earned his pilot's license from Prairie du Chien Airport.
Harlen married the love of his life, Janice Heim from Cuba City on August 4, 1954 in Belmont, Wisconsin. They enjoyed sixty-three years of marriage, working together on their 120 year old – Century-Farm located south of Prairie du Chien, Wisconsin. They sold produce, collected mostly Case Tractors, and travelled in their motor home to forty states, Mexico and Canada.
Survivors include his wife, Janice Stuckey; four children, Harvey (Mary) Stuckey, David (Jacqui) Stuckey all of Prairie du Chien, Wisconsin, Linda (Bernard) Cliff of Bloomington, Wisconsin and Sandra (Craig) Welzenbach of San Antonio, Texas; brother-in-law, Carrol Polodna; sister-in-law, Judy Pearce; seventeen grandchildren; fourteen great-grandchildren; and several nieces and nephews.
Harlen was preceded in death by his parents, Frank and Lillian Stuckey; two sisters, Louise Stuckey and Helen Polodna; and one great-granddaughter, Lillie Ferrell.
Visitation will be held from 4-8 pm on Friday, November 24, 2017 at Thornburg-Grau Funeral Home and Cremation Service, Prairie du Chien, Wisconsin. There will also be a one hour visitation before services at the church on Saturday.
Funeral Services will be held at 11:00 am on Saturday, November 25, 2017 at St. Peter Lutheran Church, Prairie du Chien, Wisconsin with Rev. Joe Irvin as the Officiant.
Burial will follow at Evergreen Cemetery, Prairie du Chien, Wisconsin.
Thornburg-Grau Funeral Home and Cremation Service, Prairie du Chien, Wisconsin is helping the family with arrangements