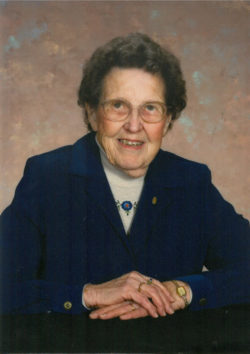 Margaret R. Marfilius, 100, of Monona, Iowa died Friday, December 22, 2017 at the Good Samaritan Society in Postville, Iowa. Margaret Ruth was born April 27, 1917 to George and Hulda (Miller) Hubacher in Mason City, Iowa. She attended Jackson and Roosevelt School through the eighth grade, graduated from the Mason City High School and attended two years at Iowa State Teachers College in Cedar Falls, Iowa.
Margaret was united in marriage with Dayton Lloyd Marfilius on January 1, 1942 at Wesley Methodist Church in Mason City with Rev. Paul Peterson as the Officiant. Two children were born to this union. They lived on the Marfilius Farm and rented it from Dayton's Folks, William and Esther Marfilius and in 1948 bought the farm. They lived there until moving to Monona in 1980. In 1943 she joined the Evangelical Church in Monona and later became a member of Garden City United Methodist Church. Margaret was a Girl Scout and 4-H leader, leader and councilor for the church youth league. She enjoyed reading, making quilts, sewing, scrapbooking, crossword puzzles and making music. She loved sports, especially the Iowa Hawkeyes, Chicago Cubs and Chicago Bears. Her greatest joy was spending time with her family.
Margaret is survived by her children, Jacquelyn (Orlan) Ranstrom of Clarkston, Washington and Ronald Marfilius of Dubuque, Iowa; daughter-in-law, Darlene Marfilius of Emerson, Georgia; five grandchildren, Jeffrey (Cheryl) Marfilius, Joseph Marfilius, Joshua Marfilius, Scott Ranstrom and Corey (Elizabeth) Ranstrom; eight great-grandchildren, Makayla Marfilius, William Marfilius, Maggie Marfilius, Scottlyn (Nick) Cook, Madelyn (James) Carpenter, Maurin Ranstrom, Leona Ranstrom and Jessie Hicks; and three great-great- granddaughters, Audriana, Zanaea and Bellany.
Margaret was preceded in death by her husband, Dayton Marfilius on July 3, 1998; her parents, George and Hulda Hubacher; three brothers, Harlan, Don and George Hubacher Jr.; and one sister, Enola Hancy.
In lieu of flowers memorials may be given to the family.
Visitation will be held from 4-8 pm on Wednesday, January 3, 2018 at Leonard-Grau Funeral Home and Cremation Service, Monona, Iowa. There will also be a one hour visitation before services at the church on Thursday.
Funeral Services will be at 10:30 am on Thursday, January 4, 2018 at Living Faith United Methodist Parish, Monona, Iowa with Rev. Deb Parkison and Rev. Steve Hansel as the Officiants.
Burial will follow at Monona Cemetery, Monona, Iowa.
Leonard-Grau Funeral Home and Cremation Service, Monona, Iowa is helping the family with arrangements.