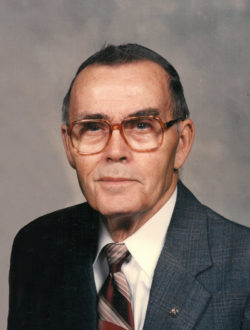 George Henry William Mueller, 97, of West Union, Iowa died Saturday, January 13, 2018 at the Good Samaritan Society in West Union, Iowa. George was born on October 9, 1920 to William and Lieda (Ahler) Mueller in Farmersburg, Iowa. He was baptized on December 19, 1920 at St. John Lutheran Church, Farmersburg, Iowa and confirmed on May 23, 1937 at West Clermont Lutheran Church, Clermont, Iowa. George attended country school between Clermont and Elgin through the eighth grade.
George was united in marriage with Vivian Kleppe on May 12, 1948 at the First Lutheran Church in Ossian, Iowa. Two children were born to this union.  George was a Veteran of WWII from 1941 to 1946. He was stationed in Texas, Chicago, Alabama and Alaska. George farmed with his father for two years and then continued farming for nine years near the Clermont Clayton County Line Road before moving to West Union in 1960. George worked for Big Grain Feed Company for a short time and then at Treager Grocery for seventeen years. George was a Custodian at North Fayette Middle School for nine years and also cleaned for Keystone AEA, retiring in 2001.
George enjoyed playing cards, camping, fishing and feeding squirrels. Above all he loved going dancing with Vivian.
George is survived by a son, Dean (Deb) Mueller of West Union, Iowa; one daughter, Marlene Shea of Jenison, Michigan; sister, Caroline Wander of Postville, Iowa; two granddaughters, Melonee (Troy) Lentell of Sioux Center, Iowa and Stacy Brewer of Strawberry Point, Iowa; six great-grandchildren, Summer, Ben and Henry Lentell ,Tyler Mueller-Lynde and Jaylyn and Cy Brewer.
George was preceded in death by his wife, Vivian on January 11, 2012; his parents, William and Lieda Mueller; a son-in-law; and a brother-in-law, George Wander.
Visitation will be held from 4-7 pm on Thursday, January 18, 2018 at Burnham-Wood- Grau Funeral Home and Cremation Service, West Union, Iowa. There will also be a one hour visitation before services at the church on Friday.
Funeral Services will be at 10:00 am on Friday, January 19, 2018 at Redeemer Lutheran Church, West Union, Iowa with Pastor Rusty Phillips as the Officiant.
Burial will be held at a later date at West Union Cemetery, West Union, Iowa.
Burnham-Wood-Grau Funeral Home and Cremation Service, West Union, Iowa is helping the family with arrangements.