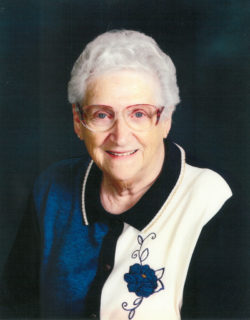 Kathleen Rose Bente, 91, formerly of Elkader, Iowa, passed away on Sunday, January 14, 2018, at Strawberry Point Lutheran Home. She was born November 25, 1926, to James and Elsie (Homann) Bissell near Turkey River Junction. She graduated from Colesburg High School and then began teaching at a Country School. Kate was joined in marriage with Lloyd Bente on June 4th, 1946. To this union six children were born.
Kate and Lloyd farmed outside of Elkader for a number of years before moving to Elkader. After they moved to Elkader. Kate started working at the Elkader Hospital when it opened its doors in 1961. Kate worked in the kitchen and as a nurse's aide for sixteen years then as a LPN until she retired with over forty years of service. Kate was instrumental in starting the Ambulance Service in Elkader, was the first Crew Chief for the ambulance and she started the blood drives in Elkader.
Kate loved her family. She was always playing with her grandchildren and great grandchildren. Kate also enjoyed playing cards, crocheting, making quilts, singing and cooking. She will be remembered for her devotion to family, infectious smile and dedication to the hospital.
Kate was preceded in death by her parents, husband, daughter Carol Koppes, siblings Nadine Beldon, Edward Bissell, Royce Bissell, Jack Bissell, Kay Williamson, Jean Tuecke, Marie Lowell and Hulda Honn, Sons-in-Laws James Berger and Edward Deshaw.
Kate is survived by her children, Sandra Berger (James) Volga, Janis Rodas (Dwight) Littleport, Linda Frieden (Gregg) Communia, Donna Moore (Ron) Glen Haven WI, Jeffrey Bente (Lisa) Strawberry Point; fifteen grandchildren and thirty-four great-grandchildren.
Visitation – Wednesday, January 17th at Peace United Church of Christ in Elkader from 3:00 – 6:00 p.m. and after 10 am on Thursday also at the church.
Funeral Service: Peace United Church of Christ on Thursday, January 18th at 11:00 a.m. with Rev. Jon Haack officiating
Interment: East Side Cemetery – Elkader, Iowa
Leonard-Grau Funeral Home and Cremation Service of Elkader, Iowa is helping the family with arrangements.