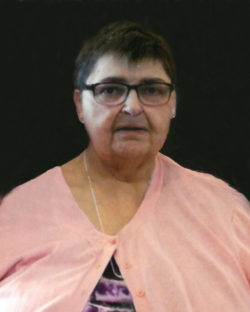 Dianna "Dee" Lee Garrow, 68, of Waukon, Iowa died Tuesday, March 20, 2018 at Northgate Care Center, Waukon, Iowa. Dianna Lee was born March 14, 1950 to Henry and Agnes (Sheriff) Knickerbocker in Iowa City, Iowa.  She graduated from Lansing High School.
Dianna was united in marriage with Frank Garrow, they later divorced. She worked for Northern Factory in Lansing, Iowa. Dee looked after her sister Roxanne's children as her own. When those nieces and nephews had children, she loved them like a grandmother. She enjoyed sewing, doing puzzles, camping and fishing. Dee had a wonderful sense of humor and loved to joke with everyone.
Dee is survived by nieces and nephews, LaVern (Kim) Timmerman Jr., Frank (Nicole Blank) Garrow Jr., Brenda (Rick) Harper, Jermy (Melissa) Jone, Walter (Chris) Ellefson, Barbara (Mark) Fore, Michael (Becky) Bailey, Mary Rose Hoehne, Sherry Christoffer and Ann Christoffer; many grand-nieces and grand-nephews; sister, Lois (Gene) Scott, half-sister, Mary Christoffer; and half-brother, Robert Ellefson.
Dee was preceded in death by her parents, Henry and Agnes; half-brother, Louis Ellefson; and half-sister, Lilly May Ellefson.
Memorial Service will be at 1:00 pm on Saturday, March 24, 2018 at Our Savior Lutheran Church, Lansing, Iowa with Rev. Laura Gentry as the officiant.
Thornburg-Grau Funeral Home and Cremation Service of Lansing, Iowa is helping the family with arrangements.