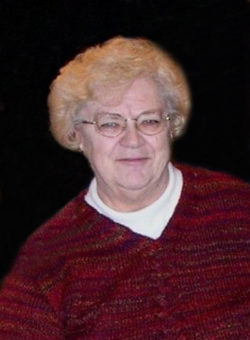 Lillian Leota Knudsvig, 81, of Decorah, peacefully passed away while surrounded by two of her sons on Wednesday, May 23, 2018 at the Gundersen Health System Hospital in LaCrosse, WI.
Leota was born in Decorah on August 2, 1936 to Naida (Peckham) and Harold "Hal" Rawson and raised in rural Castalia, Iowa. She attended Ossian High School, Coe College and St. Luke's School of Nursing, graduating with a degree as a registered nurse (RN).  While still in nursing school, she married her high school sweetheart, Lein J. Knudsvig, on May 20, 1956.
Leota worked as an RN in Waterloo, Vinton, Decorah and Postville, retiring in 2001.  After briefly living and working in Waterloo and Cedar Falls, Leota and Lein moved to Vinton in 1962 where they raised their family of five boys, returning to Decorah in 1988, where their fifth son, Dan, graduated from high school.
Leota was an avid reader, loved to play cards (especially bridge) with friends and family, trivial pursuit and lunches with her gang and relaxing at her piano.  Her sons will always love and appreciate her for her simple approach to life.
Leota was a member of Zion Lutheran Church in Waterloo, Bethlehem Lutheran Church in Vinton and Good Shepherd Lutheran Church in Decorah.
Leota is survived by her five sons:  Paul (Belkis) of Rye, NY;  Brian (Julie) of Minnetonka, MN;  Lindsay (Connie) of Delavan, WI;  Wade (Annie) of Corpus Christi, TX;  Dan (Beth) of Gilbert, AZ;  nine grandchildren;  two brothers:  Karel (Joyce) Rawson of West Union and Wes (Mariett) Rawson of Castalia and many nephews and nieces.
Leota was preceded in death by her husband, Lein, in 2007; her parents; her sister, Madeline Buddenberg; and her brother, Robert Rawson.
Visitation will be on Thursday, May 31, 2018 from 4-7 pm at Ossian Lutheran Church, Ossian, Iowa and one hour before services at the church on Friday.
Funeral Services will be at 11:00 am on Friday, June 1, 2018 at Ossian Lutheran Church, Ossian, Iowa.
Burial will follow at Hillside Cemetery, Ossian, Iowa.
Schmitz-Grau Funeral Home and Cremation Service, Ossian, Iowa is helping the family with the arrangements.