­­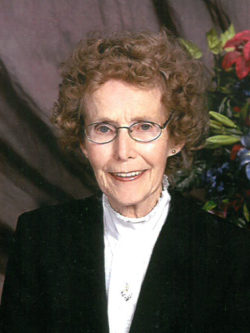 Rosemary Hanson, 93, of Sumner, Iowa – formerly of West Union, Iowa died Tuesday, October 30, 2018 at Hillcrest Living in Sumner, Iowa.  Rosemary was born November 17, 1924 to Samuel R. and Zenita (Howe) Leitch in New Hampton, Iowa. She was a graduate of Waucoma High School, earned her B. A. in Music and English Education from Luther College and her Master's Degree in Remedial Reading from Upper Iowa University.
Rosemary was united in marriage with Daniel C. Hanson on May 28, 1944 at Plymouth Congregational Church in Los Angeles, California. Five children were born to this union.  Rosemary taught at:  Lehigh, Iowa, Somers, Iowa, Holy Name in West Union, Iowa, and in the South Winneshiek School District, including the parochial schools.  She was a substitute teacher in the North Fayette and South Winneshiek Schools following her retirement.
Through the years, the couple made their home in Brainerd, Minnesota from 1945 to 1947, Prairie du Chien, Wisconsin from 1947 to 1948 and West Union, Iowa from 1949 to 2015. She was a member of the American Legion Auxiliary, West Union United Methodist Church, United Methodist Women, Manna and Evening Circle.   She was the children's choir director at her church for many years.  Rosemary loved music and playing the piano – taught piano lessons.  She also played trumpet and was in the orchestra and choir while attending Luther College.  Rosemary enjoyed gardening and tending to her flowers, and loved watching the birds and squirrels that visited her feeders.  She was an amazing seamstress – making  most of her family's clothes.  She was known for her cooking and baking (especially cinnamon rolls, cookies and pies) which she shared generously.  Her greatest joy was spending time with family.
Rosemary is survived by her children, Olivia (Duane) Pleggenkuhle of Hawkeye, Iowa, Daniel  (Jan) Hanson of Cedar Falls, Iowa, Kathy Miller of Waterloo, Iowa, Mark (Judy) Hanson of West Union, Iowa and Brent Hanson of West Union, Iowa; seven grandchildren, Craig (Peggy Fischer) Pleggenkuhle of Elk Grove Village, Illinois, Lynn Williams of St. Johns, Florida, Jennifer Hanson of Chicago, Illinois, Kari Hanson of St. Louis Park, Minnesota, Joshua (Bethany) Hanson of Hawkeye, Iowa, April (Casey) McDermott of West Union, Iowa and Thomas Hanson (UNI, Cedar Falls); step-grandchildren, Perry (Kisha) Grant of Polk City, Iowa and Kimberly (Derek) Novak of Ankeny, Iowa; great-grandchildren, Mary Kate and Samuel Pleggenkuhle, Regan, Luke, Taylor and Carter Williams, Keegan, Kale and Kelton McDermott, Kaden, Isaiah and Matthew Hanson; step-great-grandchildren, Brendan and Aidan Grant, Charlie and Ava Novak, and Bailey and Parker Poor,  one sister, Isabell Wegner of Des Moines, Iowa, and many relatives and friends.
Rosemary was preceded in death by her husband, Daniel Hanson on November 10, 1977; one grandson, Shane Miller; her parents, Samuel and Zenita Leitch; and one brother, Thomas Leitch.
Visitation will be from 12:00 pm to 2:00 pm on Sunday, November 4, 2018 at United Methodist Church, West Union, Iowa.
Funeral Service will be held at 2:00 pm on Sunday, November 4, 2018 at United Methodist Church, West Union, Iowa with Rev. Chris Ebbers as the officiant.
Burial will follow at West Union Cemetery, West Union, Iowa.
Burnham-Wood-Grau Funeral Home and Cremation Service of West Union, Iowa is helping the family with arrangements.