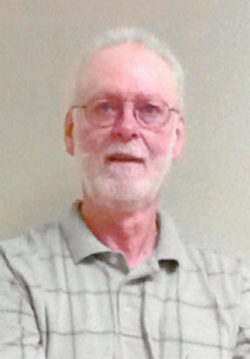 Kenneth Michael Robinson, 69, of Hawkeye, Iowa died Saturday, January 5, 2019 at his home in Hawkeye, Iowa.  Kenneth Michael was born February 20, 1949 to Albert and Elizabeth (Stewart) Robinson in Oskaloosa, Iowa. He graduated from High school in West Union, Iowa and earned his welding degree at NICC in Calmar, Iowa.  Kenneth was united in marriage with Becky Jones on January 17, 1970. They later divorced.  He was employed as a welder, his first job was in Cedar Rapids, Iowa. Kenneth also worked for Blessing in Fayette, Iowa for sixteen years. He was very artistic, pin stripping his own vehicles, rebuilding a 1926 Ford Model A, was a drummer in "Orphans of Luv" band and enjoyed old cars and motorcycles.
Kenneth is survived by his children, Abi Michelle Robinson of Waukon, Iowa and Jason Michael Robinson of Moline, Illinois; two grandchildren, Kane Michael Curtin and Samuel Kenneth Robinson; and siblings, Suzanne Kay (Greg) Gordon of Boone, Iowa and Elizabeth Jane Sather of La Crosse, Wisconsin.  He was preceded in death by his parents.
Visitation will be held from 1:00 pm to 3:00 pm on Saturday, February 2, 2019 at Burnham-Wood-Grau Funeral Home and Cremation Service in West Union, Iowa.
Burial will be held at a later date.
Burnham-Wood-Grau Funeral Home and Cremation Service of West Union, Iowa is helping the family with arrangements.