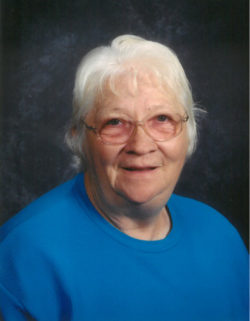 Jo Ann Dreier, 79, of Clermont, Iowa died Thursday, February 21, 2019 at her home in Clermont, Iowa. Jo Ann was born November 11, 1939 to Lyle and Mildred (Woodson) Mabb in Fayette County, Iowa She attended Clermont Schools through the eighth grade.
Jo Ann was united in marriage with Dennis Dreier on April 8, 1961. Throughout the years, Jo Ann worked in a department store in Rockford, Illinois, at Dura in West Union, was a custodian at Valley Schools and worked from home for Monona Wire. In her spare time she liked to play slot machines at the boat, go fishing and camping and she would paint Dennis' woodworking products.
Jo Ann is survived by siblings, Gail Herman of Clermont, Iowa and Mervil (Lavonne) Mabb of Postville, Iowa; several nieces and nephews. She was preceded in death by her husband, Dennis; daughter, Lori; parents, Lyle and Mildred Mabb; brother, Gene Mabb; twin sister, Joyce Ramaker; and her father-in-law and mother-in-law, Emmet and Esther Dreier.
A private family service will be held at a later date.
Schutte-Grau Funeral Home and Cremation Service of Clermont, Iowa is helping the family with arrangements.