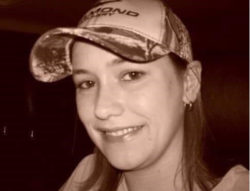 Beth took orders from no one. Except God. Her physical work here is done and her journey as an angel watching over us has begun.
Beth Abel, 35, of Marquette, Iowa died on Thursday April 4, 2019 at Crossing Rivers Hospital in Prairie du Chien, WI. Beth was born on September 20, 1983 to Roger and Janette (Brown) Carlson in Prairie du Chien, WI. She graduated from MFL-MAR-MAC in Monona, IA in 2002. Beth received her AAS in Accounting from NICC Calmar in 2004 and in September of 2005 Beth began her career at People's State Bank where she held many positions including her last as a bookkeeper in the Operations Department at the Main Office. It wasn't long before her co-workers knew Beth was family.
Beth started her greatest adventure with Terre Gene Abel as high school sweethearts. A series of "non-traditional" dates ensued, including setting up deer blinds and stands and 'riding in the Gill'. Fishing and hunting turned into a lifetime of love and the 2 were married at Pike's Peak State Park on September 27, 2008. Soon after the two build a picturesque house together in the woods and started their family. Two beautiful children were welcomed into their lives. A vibrant, smart, funny and sassy little girl named Alydia Kay Abel and a handsome, brown-eyed, dimple wearing young boy named Brayson Gene Abel.
Beth's hobbies included wood working projects, painting, coloring, hunting, fishing and enjoying time with friends and family. She left a positive imprint on the hearts of everyone she met. Beth had a genuine love for all people. She had a heart of gold and believed that everyone else does too. She believed in love, in courage, in forgiveness and in making the most of the hand you were dealt. She had a gift for bringing people together. Her amazing qualities will live on in us as we remember her and celebrate her life, now and for years to come.
Beth will be lovingly remembered by her husband Terre and their children Alydia and Brayson; her parents Roger & Janette (Brown) Carlson and siblings Amy (Michael) Jackson & Cindy Carlson; Perre & Peggy Abel (father/mother in-law), Alisha (Andrew) Henderson (sister in-law). Beth is fondly remembered by her nieces and nephews Markea, Mehki, Talan, Maleah (Amy); Tyler, Tristan (Cindy); and Aiden, Adam (Alisha) as well as her grandparents Harry & Marlene Abel and Eunice Carlson.
Beth was preceded in death by her grandparents Donald & Eleanor Brown and George Carlson.
A Celebration of Life will be held from 11:00 am to 3:00 pm on Saturday, April 13, 2019 at The Barn Restaurant in Prairie du Chien, Wisconsin.
Inurnment will be held at a later date.
If unable to attend memorial cards may be sent to:
Terre Abel
Box 262
Marquette, Iowa 52158
Thornburg-Grau Funeral Home and Cremation Service, McGregor, Iowa is helping the family with arrangements.