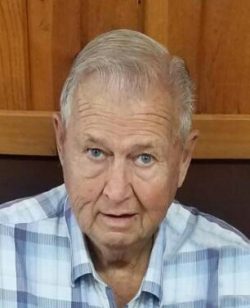 Robert Eugene "Gene" Medberry 82, of Elgin, Iowa passed away on Tuesday, November 3, 2020. Robert Eugene Medberry was born on May 29, 1938 in rural Elgin, Iowa to Howard and Edith (Holtzer) Medberry.  His youth was growing up with his two sisters attending a one room school house at Illyria #2 located only a half mile from their home. Gene's childhood was working, playing, and getting into mischief on their family farm. Gene was a 4-H leader, directed the Illyria plays at church, and graduated in 1955 from Elgin High School at the young age of 16. After graduation he worked briefly for Meyer Brothers (Fort Atkinson) on the road crew driving a D6 Push Cat and a packer; a roller that packs the ground. Gene joined the Marine Corps (1957-1960) and was a jet-fighter mechanic with the rank of E4 Sergeant. Traveling from Iowa to California's Marine base was his first trip away from home. After coming back from the Marine Corps, he worked for a year at John Deere casting dies in Waterloo. Gene decided farming was what he really loved, so he returned to the family farm.
Gene married Ruth Good in 1962 and divorced after ten years. To this union five children were born: Roberta and Connie and twin daughters (Jean & Jan) and a son (Todd) died in infancy.
Gene married Marilyn Roepke on March 23, 1974 and their daughter Amy Gene was born in 1975. Gene then adopted Mike and April in 1976. Gene's daughters (Roberta and Connie) visited on the weekends and a family was created. Gene & Marilyn were married for 44 years before she passed away in 2018. Gene resided at rural Elgin for 46 years on the family farm where they raised cattle in their feed lot and hogs. Gene was a farmer most of his life and also drove semi for Patterson's hauling grain. He eventually had his own trucking company called Medberry Trucking.  Gene was known for growing sweet corn, grapes, popcorn, Indian corn, and more. Gene was a member of the Illyria Community Church and mowed the cemetery for six years. He loved playing cards, telling jokes, having a refreshing beverage, fishing, deer hunting, snowmobiling, and going camping. Marilyn and Gene enjoyed their retirement camping at Wildwood Acres near Maquoketa, Iowa for 21 years. Once retired from farming he took up the hobby of woodworking. He enjoyed making "simple things" like bookshelves, entertainment centers, quilt racks, and end tables. Gene was so proud of all of his children, sons-in-law, daughter-in-law, grandchildren, and great – grandchildren.
Those left to honor his memory include daughters: Roberta Medberry (West Union), Connie (Mat) Benjegerdes (West Union), April (Ken) Schmitt (Fort Atkinson), and Amy (Justin Zeran) Medberry (Elgin), son: Michael (Mary Ann) Medberry (Vista, California), grandchildren: Ryan (Ali) Benjegerdes, Lucas (Amanda) Benjegerdes, Christopher (Ivy) Medberry, Casey (Stephanie Harding) Aagesen, and Ashley (J.D. McGraw) Aagesen. Great-grandchildren: Lydia & August Benjegerdes, Eli Rudy Walker & Elizabeth Gene Louise McGraw, Lillian & Isabella Medberry. Sisters: Marlene (John) Grimm and Meg (Bill) Moellering.  Sister-in-laws: Dorothy Knavel, Thelma Duckett, Elaine Rockwood, Judy (Mark) Lang, Alice Roepke-Vega, Susan Roepke, and many nieces and nephews.
Gene was preceded in death by his beloved wife: Marilyn Medberry (2018), children: (died in infancy) Jean, Jan, & Todd, parents: Howard & Edith Medberry, in-laws: Rudy & Edna Roepke, brother & sister-in-laws: John & Gladys Higgins, Jim & Shirley Roepke, Jerry Roepke, Paul Roepke, Bob Knavel, Ray Rockwood, Roger Duckett, Allen Crandall, & Mike Vega and 12 nephews & nieces.
A Graveside Service with Military Rites will be held at 2:30 pm on Saturday, November 7, 2020 at Illyria Cemetery in Elgin, Iowa with Rev. Pam Reinig as the officiant. There will be a visitation from 1:00 until time of service at the cemetery on Saturday.
Due to Covid-19 we ask that everyone wear a mask and continue social distancing if you plan on attending. If you would like to sit, please bring a lawn chair.
Leonard-Grau Funeral Home and Cremation Service of Elgin, Iowa is assisting the family with arrangements.