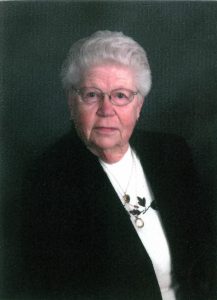 Doris Guese, 98, of Postville, Iowa died Saturday, May 13, 2023 at Stoney Brook Village Assisted Living, West Union, Iowa. Doris Rose (Hager) Guese was born March 13, 1925 to Henry and Rose (Stock) Hager. She graduated from Waukon High School.
Doris was united in marriage to Arthur Guese on March 8, 1945 at the Bethlehem Church parsonage. Together they had four children, Janice, Janet, Lyle and Joyce. All her life she worked as a farm wife and homemaker. After retiring farming she was a CMA for ten years at Good Samaritan, Postville quiting to take care of Arthur.  She was a good cook and baker especially known for her Sunday dinners, cinnamon rolls, sour cream raisin pies, angel food cakes and cookies.  Her crocheting and knitting handiworks included the cows, stocking caps and mittens. She also started the prayer shawl project at Salem.  Arthur and her, were members of the Postville Historical Society.  Always working, even mowing lawn until she was 80. Church and Women's activities were important to her. Family was most important to her including the dogs she had that kept her company after Arthur died.
Doris is survived by her three children, Janice (Marvin) Adam of Postville, Lyle (Barb) Guese of Waukon and Joyce Guese of Arvada, Colorado; nine grandchildren; fourteen great-grandchildren and four great-great grandchildren and a sister-in-law, Deloris Hager.
Doris was preceded in death by her husband, Arthur; and infant daughter, Janet Guese; her parents; her twin brother, Donald Hager; brothers, Elmer (Caryl) Hager and Lester Hager and a sister, Arlene Hager.
Pallbearers are grandchildren: Craig, Clark and Kevin Adam, Rachelle Brissey, Brandon, Grett, Lucas Guese, Nick, Nathan Dunlap.
Memorial donations in Doris' honor may be made to Stoney Brook Village Assisted, West Union, Iowa.
Funeral Services will be at 11:00 am on Tuesday, May 16, 2023 at Salem United Church of Christ, Waukon, Iowa with a visitation from 9:30 am until time of services on Tuesday.
Burial will follow at Bethlehem Presbyterian Church Cemetery, Postville, Iowa.
Schutte-Grau Funeral Home and Cremation Service, Postville, Iowa is helping the family with the arrangements.