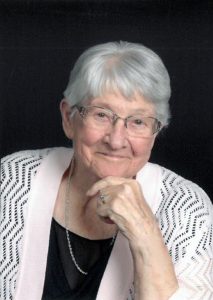 Marilyn Carol Christofferson, 90 of Postville, Iowa passed away Saturday, June 3, 2023 after a short stay at Northgate Care Center in Waukon, Iowa. Marilyn was born June 30, 1932 to Harry and Mabel (Sander) Gordon in Postville, Iowa. She graduated from Luana High School.
On June 23, 1951 Marilyn was united in marriage with Roger William Christofferson. Throughout the years she worked as a bookkeeper at Falb Motors Company and Agri, as well as a Farm Wife. Marilyn enjoyed sewing, reading, playing cards and bird watching. She was well known for her fried chicken and was a member of the Ladies Auxiliary. Marilyn's greatest joy was spending time with her family and grandchildren.
Surviving Marilyn are her daughter, LuAnn (Hall) Swenson of Postville, Iowa; grandchildren, Heather (Cory) Koenig of Prairie du Chien, Wisconsin, Erika (Bruce) Olson of Luana, Iowa, Crystal (Ed) Klenk of Monona, Iowa, Jesse (Melissa) Swenson of Luana, Iowa, Joshua Toenges of Clinton, Iowa and Jason (Lindsay) Toenges of La Porte City, Iowa; great-grandchildren, Reid, Ryder and Rhett Koenig, Kaitlyn and Brady Olson, Logan, Koala and McKenna Klenk, Liam and Ember Swenson and Hayden, Kayla and Peyton Toenges;  one brother, Mike (Connie) Gordon of Rochester, Minnesota; and one son-in-law, Duane Toenges of Marion, Iowa.
Marilyn was preceded in death by her parents, Harry and Mabel Gordon; husband, Roger Christofferson on June 21, 2014; and her daughter, Coleen Toenges.
Funeral Service will be at 11:00 am on June 11, 2023 at St. Paul Lutheran Church in Postville, Iowa with Pastor Lynn Noel as the officiant. There will be a one hour visitation before services at the church on Sunday.
Inurnment will follow at Postville Cemetery in Postville, Iowa.
Schutte-Grau Funeral Home and Cremation Service of Postville, Iowa is assisting the family with services.