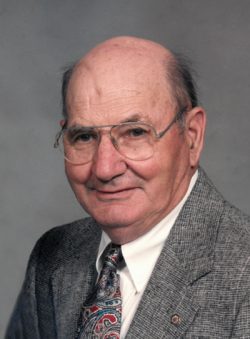 Clarence Joseph Meyer, 98, of Monona, Iowa died Saturday, January 4, 2020 in North Port, Florida.  Clarence was born January 23, 1921 in Garber, Iowa to parents Benjamin and Gertrude (Zapf) Meyer. He received his education at country school and at St. Joseph Catholic School in Garnavillo.
On February 5, 1946, Clarence was united in marriage with Irma Catherine Hoeger at St. Joseph Catholic Church in Garnavillo. To this union eight children were born. Clarence had been living on his farm outside Monona since December 1951. In his later years he and Irma spent the winters in North Port, Florida. Clarence was a farmer his entire life. He enjoyed raising beef cattle, hogs, corn and hay while erecting MFS grain bins on the side. He knew the life of old-fashioned hard work on the farm. While Clarence knew times of heartache, he also shared in God's blessing of bounty. His hobbies included buying antiques, bowling, gardening, playing cards, photography and meeting new people, all of which he enjoyed up until age 97. He was a member of the Knights of Columbus since 1941.
Clarence is survived by his eight children, Vernon (Connie) Meyer of Grove City, Ohio, Dan Meyer of Oelwein, Reverend Stephen Meyer of Webster City, Tom Meyer of Monona, Mary (Steve) Berns of Jesup, Leon (Anne) Meyer of Monona, Nancy Hunter of Monona and Ron (Tonya) Meyer of Roland; twenty-two grandchildren; twenty-four great-grandchildren; and one sister, Rita Gerner of Garber. Preceding him in death were his parents, Benjamin and Gertrude Meyer; and his lovely wife, Irma.
Visitation will be held from 4-6 pm with 6:00 pm Rosary on Sunday, January 26, 2020 at Leonard-Grau Funeral Home and Cremation Service of Monona, Iowa. There will also be a one hour visitation before mass at the church on Monday.
Mass of Christian Burial will be at 11:00 am on Monday, January 27, 2020 at St. Patrick Catholic Church in Monona, Iowa with Rev. Stephen Meyer as the celebrant.
Burial will follow at St. Patrick Catholic Cemetery in Monona, Iowa.
Leonard-Grau Funeral Home and Cremation Service, Monona, Iowa is helping the family with arrangements.