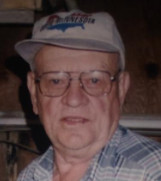 Lloyd Robert Erickson, 87, of New Albin, Iowa died Monday, January 6, 2020 at Thornton Manor in Lansing, Iowa.  Lloyd Robert was born February 23, 1932 to Clifford and Alvina (Schirler) Erickson in Caledonia, Minnesota. Lloyd joined and proudly served in the United States Army.
Lloyd was united in marriage with Adeline Fink, she died in 1968. Lloyd was then united in marriage with Diane Kasten on April 19, 1970. He worked for many years as a Union Carpenter. Lloyd belonged to Carpenters Local 1143 of La Crosse, Wisconsin for 40 years; and was a member of Caledonia American Legion for 35 years. He enjoyed fishing, cutting wood with his boys, making homemade sauerkraut, pickled fish, lefse and bread, woodworking and gardening.
Lloyd is survived by his wife, Diane Erickson of New Albin, Iowa; his children, Anita Shepherd of Caledonia, Minnesota, Richard (Paula) Erickson of New Mexico, Bruce (Brenda) Erickson of La Crescent, Minnesota, Linda (Randy) Sevelin of Hinckley, Minnesota, Daniel Erickson of New Albin, Iowa, Pamela (Les) Davis of St. Augustine, Florida, Steve (Nikki) Erickson of Brownsville, Minnesota, Eric Erickson of Appleton, Wisconsin and Ashley Erickson; nine grandchildren, Nathan Boardman, Ava Rose Lueck, Mandy Fredrickson, Candia Hills, Brittany Erickson, Brandon Davis, Fayth Davis, and Blake Davis; one great-grandchild, Soren Fredrickson; two sisters, Doris (Elmer) Binde of Onalaska, Wisconsin and Lois (Leo) Breeser of New Albin, Iowa; and one brother, Gerald Erickson of Winona, Minnesota.
Lloyd was preceded in death by his first wife, Adeline; two sons, Randall Erickson and Roger Erickson; one granddaughter, Erin Sevelin; and one sister, Evelyn Link.
The 'Celebration of Life' will be held at the New Albin, Iowa townhouse located at 136 Elm Street on January 18, 2020, with the visitation from 10 a.m. to 11 a.m.; eulogy & post funeral reception from 11 a.m. to 1 p.m.
Thornburg-Grau Funeral Home and Cremation Service of Lansing, Iowa is helping the family with arrangements.