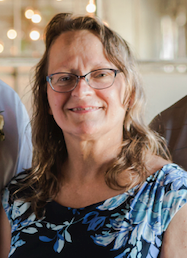 Betty Ardis Landis, 61, of Elkader, Iowa died Thursday, September 24, 2020 at Copper Creek Assisted Living in West Union, Iowa. Betty was born December 12, 1958 to Albert and LaVon (Watson) Roepke in Manchester, Iowa. She graduated from Oelwein High School.
On October 17, 1984, Betty was united in marriage with Bruce Landis at St. Paul Lutheran Church in Aurora, Iowa. They raised their six children in Elkader, Iowa.  Betty was active at Peace United Church of Christ, helped organize the first town wide Bible School and taught Sunday School. Betty was also on the Elkader City Council, Park Board, and the Main Street Committee. Betty was a runner and ran three marathons as well as many other races. She loved her rescue cats. For several years, Betty was a participant in the Osborne holiday walks and she performed and helped with costumes for the Opera House plays. Betty had a special attachment to the Heritage Farm where she grew up. Most of all Betty was a wife and mother. She loved her home, her children and grandchildren, and the many activities in which they were involved.
Betty is survived by her husband, Bruce Landis of Elkader, Iowa; their six children, Adam (Nicole) Landis and daughter Isabella; Bridget Landis and children Gabrielle, Michael, Nicholas, Olivia, Charlotte, and Alexander; Elaine (Jeremy) Bossard and sons Jack and James; Claire (Jason Walczyk) Landis; Sophia Landis; and Evan (Robin) Landis; two brothers, Michael Roepke and  Richard (Barb) Roepke , three sisters, Kathy (Jim) Keasler, Marilyn (Al) Braaten, Ruth (Jim) Nelson, and many nieces and nephews. Betty was preceded in death by her parents.
A Private Family Service will be held November 14, at 11:00 AM . Friends and family are invited to live stream the service.
Join Zoom Service
https://sps5.zoom.us/j/85933313980
Memorials may be sent to Peace United Church of Christ in Elkader or Clayton County Conservation.
Leonard-Grau Funeral Home and Cremation Service of Elkader, Iowa is assisting the family with arrangements.