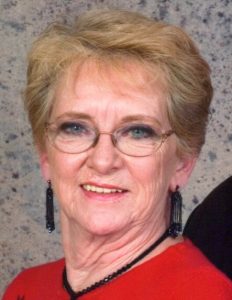 Juanita "Red" Johanningmeier, 86 of DeWitt, Iowa, passed away peacefully in her home, with family by her side, early Tuesday, May 2, 2023. Juanita Carolyn Hardin was born July 11, 1936, in Holt, Missouri, to Arnold and Leola (Edwards) Hardin.
She was married for several years to the father of her four sons. On January 30, 1966, she was united in marriage to E. Carlyn Johanningmeier, with whom she had two daughters. Red and Carlyn resided south of Luana where they farmed together and owned and operated a small trucking company. They retired to the DeWitt area. Carlyn preceded her in death on April 10, 2014.
Red enjoyed bowling and was inducted into the hall of fame in Postville. She also coached junior bowlers for many years. Red had an unforgettable whistle that could garner attention from a mile away. She was a wonderful cook and used to make the best homemade noodles.
Red had a great sassy personality that entertained until the very end. She was a dedicated mother with a heart of gold, sharing her love with everyone who needed it. She had a great sense of humor and would often do "impressions."
Surviving are children, Brad (Laurie) Richard of Luana, Rick (Anita) Richard of Monona, Dana Richard of Garnavillo, Susan Johanningmeier of Luana, and Lori (Jeff) Frick of DeWitt; grandchildren, Bill and Randy, Amanda and Andrew, Jon, Chris, Adam and Maddie, Lindsey, Brandon and Kaity; several great-grandchildren and step-great-grandchildren; sister-in-law, Paula Hardin; and her beloved cat, Precious.
She was preceded in death by her husband, Carlyn, son, Ray Richard, and brother, Walt Hardin.
The family will receive friends at a Celebration of Life Reception at Leonard-Grau Funeral Home in Monona, Iowa, from 4:00 until 7:00 p.m. Saturday, May 6, 2023.
In lieu of flowers, donations are suggested to St. Jude's and Shriner's Childrens Hospitals.
Local arrangements are in the care of Schultz Funeral Home, DeWitt. Condolences may be expressed at www.schultzfuneralhomes.com.
Leonard-Grau Funeral Home and Cremation Service of Monona, Iowa is assisting the family with services.