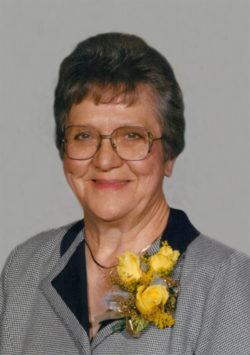 Julia Ann (Pettit) Martin, 92, of Elgin, Iowa passed away Saturday, April 27, 2019 at Maple Crest Manor Nursing Home in Fayette.   She was born on March 27, 1927 in Independence, Iowa to Pearly and Margaret (Lane) Pettit. She was baptized at St. John's Catholic Church in Independence, Iowa and confirmed at Immaculate Conception Catholic Church in Lansing, Iowa.  Judy attended several years at Village Creek Country School, finished grade school at Immaculate Conception School and graduated from Immaculate Conception High School in 1945. After high school, she worked as a typist at Lansing Co for several years.
Judy was united in marriage with Giles Martin, son of Melvin and Mary (McCoy) Martin on February 11, 1947 at Immaculate Conception Catholic Church and they spent their married life in Elgin. They first farmed and later built the family home in town where their youngest son resides.
Julia was employed at the Elgin Echo for twenty-four years.  She was a member of St. Peter's Catholic Church, Rosary and Altar Society and the Elgin Auxiliary. During her retirement years, Judy and her husband, Giles spent many hours quilting for various missions, gardening and traveling.
Julia is survived by her chilcren, Mike (Jane) Martin of Corpus Cristi, Texas, Wanda (Alan, deceased) Himmel of Aurora Ohio, Donna (Bill)Harmon of Flint, Michigan, John (Nicole) Martin of Tonganoxie, Kansas and Tom (Robin) Martin of Elgin, Iowa; She was the proud grandmother of twenty-nine grandchildren, thirty-four great-grandchildren and five great-great grandchildren
She was preceded in death by her beloved husband, Giles L. Martin; grandchildren, Rita, Paula, Jonathan, Patrick and Nicolas; her parents, Pearly and Margaret Pettit; and two sisters and a brother.
Mass of Christian Burial will be at 10:30 am on Friday, May 3, 2019 at St. Peter's Catholic Church, Clermont, Iowa with a one hour visitation before services at the church on Friday. Rev. Don Komboh will be the celebrant.
Interment will be held in St. Peter's Catholic Cemetery, Clermont, Iowa following the services.
Leonard-Grau Funeral Home and Cremation Service of Elgin, Iowa is assisting the family with arrangements.