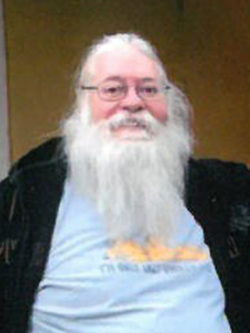 Leonard M. Ohlhauser, 64, of Bagley, Wisconsin died Thursday, April 11, 2019 at Crossing Rivers Health, Prairie du Chien, Wisconsin. He was born September 28, 1954 to Calvin and Marion (Pauley) Ohlhauser in Cedar Rapids, Iowa. He graduated from Kennedy High School in Cedar Rapids.
Leonard was united in marriage with Denise Holmes on February 18, 1979 in Washington, Iowa. Ten children were born to this union. He did construction for Harmen Webb & Ace Construction in Cedar Rapids. He was also a General Laborer. Leonard enjoyed fishing with his best friend, Paul and his grandchildren. He was a member of the Society Sons Motorcycle Club. Leonard also loved spending time with his wife, children and grandchildren.
Leonard is survived by his wife, Denise of Bagley; nine children, Jennifer Ohlhauser of Bloomington, Wisconsin, Brenda Ohlhauser of Bloomington, Leonard Ohlhauser Jr. of Bloomington, Timothy Moore of Fennimore, Wisconsin, Melanie Anderson of Cedar Rapids, Joseph Ohlhauser of Cedar Rapids, Brooklyn Ohlhauser of Bagley, Sean Ohlhauser of Bagley and Quentin Ohlhauser of Bagley; eighteen grandchildren; brothers, Kenny Ohlhauser and Robert Ohlhauser both of Cedar Rapids and sisters, Kelly Kleinman of Cedar Rapids, Vicki Bean of Cedar Rapids and Sandra St. John of Oelwein.
Leonard was preceded in death by his parents; a daughter, Angelique and two best-friends, Paul Morarie and Calvin Combs.
There are no services planned at this time.
Thornburg-Grau Funeral Home and Cremation Service, Prairie du Chien, Wisconsin is helping the family with the arrangements.