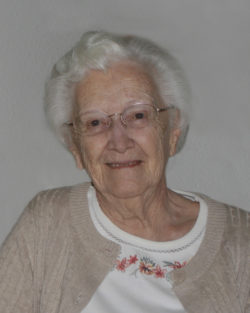 Leonette Julia Kernan, 100, of Wexford, Iowa died Monday, July 1, 2019 at Thornton Manor, Lansing, Iowa.  Leonette Julia Mullarkey was born May 23, 1919 to Michael and Mary (Brennan) Mullarkey in Wexford, Iowa. She graduated from Kee High School, Lansing, Iowa.
Leonette was united in marriage with Francis Kernan on July 30, 1940 at Immaculate Conception Catholic Church, Wexford, Iowa. Six children were born to this union. She was a member of the Immaculate Conception Catholic Church in Wexford.
Leonette was a strong and capable woman who weathered many adverse times in her 100 years.  She was always comforted by her faith and love of family.  She was forever the teacher of how to make tough tasks into fun "Bees" whether it was butchering chickens, freezing corn, making pies, cutting wood, etc…  The door was always open at the Kernan farm for parties of all kinds.  She loved "commotion" and always felt better having something to look forward to.  Leonette thrived on situations like housing and feeding 20+ unexpected guests at the drop of a hat!  She loved to laugh, play a great game of cards, tell witty stories and make everyone she came in contact with feel important and loved.  She will be dearly missed.  It's up to us now to remember and practice all the lessons that she taught us.
Leonette is survived by her four children, Jack (Mary Ann) Kernan of Winter, Wisconsin, Jerry (Anne) Kernan of Stoddard, Wisconsin, Marilyn Clarkin of Onalaska, Wisconsin and Denny (Jami) Kernan of Minneapolis, Minnesota; daughter-in-law, Mary Kernan of Lansing, Iowa; seventeen grandchildren; three step-grandchildren; many great- grandchildren and two siblings, Eleanor O'Neill of Waukon, Iowa and Carl (Mona) Mullarkey of Wexford, Iowa.
Leonette was preceded in death by her husband, Francis Kernan; her sons, Bob Kernan and Bill Kernan; her parents; two sons-in-law, Al Wagner and Dave Clarkin and siblings, William Mullarkey, Evelyn Delaney, Marguerite Manning, Catherine Dowd and Leo Mullarkey.
Visitation will be held from 3-7 pm on Friday, July 5, 2019 at Thornburg-Grau Funeral Home and Cremation Service of Lansing, Iowa. There will also be a one hour visitation before Mass at the church on Saturday.
Mass of Christian Burial will be at 11:00 am on Saturday, July 6, 2019 at Immaculate Conception Catholic Church in Wexford, Iowa with Rev. John Moser as the Celebrant.
Inurnment will follow at Immaculate Conception Catholic Cemetery, Wexford, Iowa.
In lieu of flowers, memorials in Leonette's honor may be made to the ALS Association or an organization of your choice.
Thornburg-Grau Funeral Home and Cremation Service, Lansing, Iowa is helping the family with arrangements.