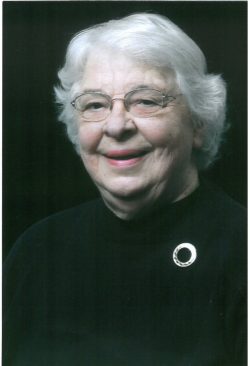 Meda Weller, 96, of McGregor, Iowa died Saturday, August 24, 2019 in Cascade, Iowa. Meda Charlene Weller was born in McGregor, Iowa, October 6, 1922, to parents Carl and Margaret (Zahn) Miller. Meda graduated from Rockford Memorial School of Nursing in Rockford, Illinois, 1944.  She served in the Philippines with the Army Nurse Corp. from late 1944 to early 1946.  Meda then worked as a Registered Nurse in Alaska when it was still a territory.   March 1947, while in Alaska, she married Walter Allan DeLamater.  They had two daughters, Marie and Virginia (Ginny).
Meda also worked as a nurse in Oregon, Wisconsin, and Iowa.  She married Ervin Glen Weller on October 2, 1950, at the Little Brown Church in Nashua, Iowa. They ran a dairy farm and Meda worked as an RN in McGregor, Iowa.  With that union two sons were added to the family, Neal and Morris. She was active in the First Congregational Church and American Legion Post 267, both in McGregor. Meda enjoyed spending time with her family, traveling, scrap booking; liked horses, dogs, and cats.
Meda is survived by three children, Marie Thomas and Ginny Knepper, both of Cascade Iowa; Morris (Sandy) Weller, McGregor, Iowa, and daughter-in-law, Sheryl Weller, Waterloo, Iowa; twelve grandchildren, Chad Giese, Chris (Allie) Mirosevic, Michelle Gardner, Rob (Tracey) Knepper, Jeremy (Andrea) Knepper, Hollis (Kathleen) Weller, Monica (Paul) Tiffany, Clayton (Amy) Weller, Karl (Julie) Weller, Adam Weller, Jaime (Aaron) Nugent, Derek (Manda) Weller;  twenty-two great-grandchildren; and many nieces and nephews.
Preceding Meda in death were her parents; sisters, Amy Wright, Edna McGill, and Dorothy Moen; brother, Earl Miller; husbands, Walter DeLamater and Ervin Weller; son, Neal Weller and sons-in-law, Bob Knepper and Bill King.
In lieu of flowers, memorials may be directed to American Legion post 267, Food Banks, McGregor Museum, McGregor Library, American Cancer Society, or a charity of your choice.
The family would like to thank Dubuque Hospice for their wonderful care: Jeannette, Paul, Suzanne, all those who came giving support and comfort, whether with phone calls or coming to her with your kind and gentle care.
Visitation will be held Tuesday, August 27, 2019 from 4-8 pm at Thornburg-Grau Funeral Home and Cremation Service in McGregor, Iowa. There will also be a one hour visitation before services at the church on Wednesday.
Funeral Service will be at 11:00 am on Wednesday, August 28, 2019 at First Congregational Church, McGregor, Iowa with Rev. William Gentry as the officiant.
Inurnment with Military Rites at Pleasant Grove Cemetery, McGregor, Iowa will be held at a later date.
Thornburg-Grau Funeral Home and Cremation Service of McGregor, Iowa is helping the family with arrangements.