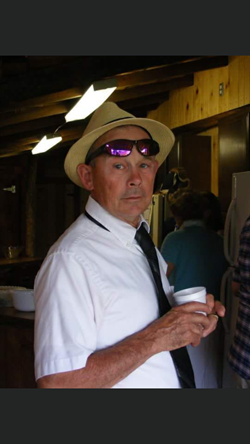 Leslie Richard Guyer, 75, of Elgin, Iowa died Monday, December 9, 2019 at his home in rural Elgin, Iowa.  Leslie was born on March 20, 1944 to Victor Millard and Jennie Caroline (Wolfs) Guyer in Postville, Iowa. He was baptized on May 7, 1944 and confirmed on October 15, 1959. Leslie grew up on the family farm south of Clermont, Iowa. He attended country school through the 4th grade, and later attended Valley of Elgin, where he graduated in 1962. Leslie was drafted into the United States Army on April of 1965, on a two-year tour spending one year in Vietnam. He was very proud to serve his country.
In 1969, on June 14, Leslie was united in marriage with Marcella (Sally) Evans. While working as carpenter for several years, he bought his dairy farm West of Clermont and continued to do carpentry work while he farmed. Leslie's faith in the Lord was paramount in everything he said or did. The West Clermont Lutheran Church was and is a big part of who Leslie was as a man. He was baptized, confirmed, married and ultimately eulogized in the same church.
Leslie is survived by his wife, Marcella (Sally) Guyer; four sons and one daughter, Travis Guyer (Sara Baker) of Hawkeye, Iowa, Joseph (Bailey) Guyer of Cresco, Iowa, James Guyer of Cresco, Iowa, Jamie Guyer of Pennsylvania and Jericho Guyer of Georgia; eleven grandchildren; four great grandchildren; six siblings, Sylvia Loftsgard, Gerald (Vada) Guyer, Lucille Severson, Marilyn Knutsen, Arnold (Deb) Guyer and Ernest (Moni) Guyer; and many nieces and nephews.
Visitation will be held from 4-8 pm on Friday, December 13, 2019 at West Clermont Lutheran Church, Clermont, Iowa. There will also be a one hour visitation before services at the church on Saturday.
Funeral Service will be at 11:00 am on Saturday, December 14, 2019 at West Clermont Lutheran Church, Clermont, Iowa with Pastor Roland Waterman as the officiant.
Burial will follow at God's Acres with Military Honors, Clermont, Iowa.
Schutte-Grau Funeral Home and Cremation Service of Clermont, Iowa is helping the family with arrangements