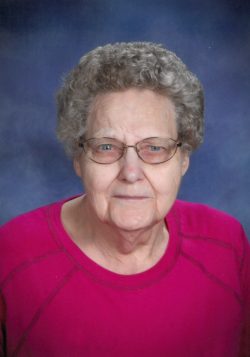 Janice Arlene Hoth Eno, 86, of St. Olaf, Iowa died, Tuesday, January 14, 2020 at Guttenberg Care Center in Guttenberg, Iowa.  Janice was born June 7, 1933 to Lyle and Adella Olson. She attended Dry Creek Country School through the 8th grade and graduated from Elkader High School.
Janice was united in marriage with Eugene Carl Hoth on December 1, 1953 at Norway Lutheran Church. Five children were born to this union. Following the death of Eugene on April 22, 1966, Janice continued to farm and raise the children. She was united in marriage with James Lewis Eno on May 21, 1976 in Burlington, Iowa. Janice enjoyed collecting dolls, gardening, crafting, crocheting, embroidery and loved spending time with family and friends.
Janice is survived by her children, Beverly (William) Rodenberg of Garnavillo, Iowa, David (Angela) Hoth of Postville, Iowa, Arlene Monroe of Monona, Iowa, Teresa (Neil) Cleary of Des Moines, Iowa and Darrell (Angie) Hoth of Eagle, Idaho, seventeen grandchildren; several great-grandchildren; and one sister, LaRayne (John) Lenhart of Elkader, Iowa; two sister in laws, Ila Mae Mueller of Monona, Iowa and Marlene Marmann of Elkader, Iowa; one aunt, Judith Olson of Colesburg, Iowa.
She was preceded in death by her parents, Lyle and Adella Olson; husbands, Eugene Carl Hoth and James Lewis Eno; and one granddaughter, Melissa Hoth.
Visitation will be held from 4-7 pm on Tuesday, February 4, 2020 at Leonard-Grau Funeral Home and Cremation Service in Monona, Iowa. There will also be a one hour visitation before services at the church on Wednesday.
Funeral Service will be at 11:00 am on Wednesday, February 5, 2020 at Norway Lutheran Church in St. Olaf, Iowa with Rev. Marshall Hahn as the officiant.
Inurnment will be held at East Side Cemetery in Elkader, Iowa.
Leonard-Grau Funeral Home and Cremation Service of Monona, Iowa is helping the family with arrangements.