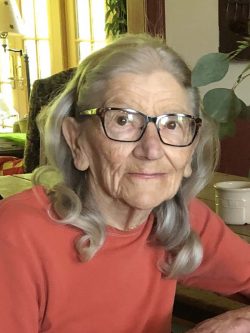 Helen Mae Knockel, 90, of Monona, Iowa died Friday, June 19, 2020 at Crossing Rivers Health, Prairie du Chien, Wisconsin. She was born July 24, 1929 to Daniel and Augusta (Scheffert) Cunningham in Monona, Iowa. Helen graduated from Monona High School in 1946 and attended college in Dubuque.
Helen was united in marriage to Elmer Clarence Knockel on May 8, 1948 at St. Mary Catholic Church in Cascade, Iowa. Ten children were born to this union. Helen worked at Swiss Valley Farms in Luana as a lab technician for many years. She will be remembered best for her love of family, her strength through her faith, and her unfailing sense of humor.
Helen is survived by her nine children, Perry (Barb) Knockel of Albuquerque, New Mexico; Gary Knockel of Kilgore, Nebraska; Sherry (Greg) Krogman of Maquoketa, Iowa; Terry (Chris) Hardy of Rapids City, Illinois; Larry (Hong) Knockel of Monona, Iowa; Kerry (Beth Huber) Knockel of Burnsville, Minnesota; Mary (Rayne) Krambeer of Muscatine, Iowa; Elmer (Karla) Knockel of Rochester, Minnesota; and Paul (Jean) Knockel of New Sharon, Iowa; daughter-in-law, Linda Knockel of Monona, Iowa; sister, Betty Tigges of Dubuque, Iowa; twenty-seven grandchildren, several great-grandchildren, and many nieces and nephews.
Helen was preceded in death by her husband, Elmer C. Knockel on October 11, 2005; a son, Jerry Knockel; her parents and seven siblings.
Mass of Christian Burial will be Wednesday, June 24, 2020 at 11:00 a.m. at St. Ann – St. Joseph Catholic Church, Harpers Ferry, Iowa. Prior to mass, visitation will be held from 9:00-11:00 a.m. at the church. Rev. John Moser will be the Celebrant.
Burial will follow at St. Patrick Catholic Cemetery, Monona, Iowa.
Leonard-Grau Funeral Home and Cremation Service, Monona, Iowa is helping the family with the arrangements.