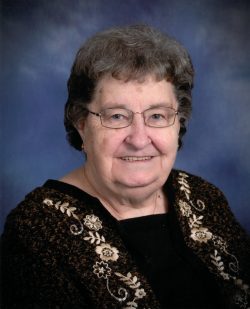 Rita Kregel, 84, Monona, Iowa, passed away on Saturday November 14, 2020 at her daughter's home in Fayette surrounded by family. Rita was born December 27, 1935 in Guttenberg, Iowa to Albert and Lucille (Hefel) Jaeger. Rita graduated from St. Mary's High School in Guttenberg, Iowa.
Rita married Eldon Kregel on June 29, 1954 in Elkader Iowa. Seven children were born to this union. Rita and Eldon farmed for 40 years. Rita was also an inspector at Northern Engraving in Waukon Iowa for 30 years. Rita was a past President of St Patrick's Rosary Society and former member of the Franklin Homemakers Society. Rita was a member of American Legion Auxiliary and St. Patrick's Service Society.
Rita enjoyed traveling, cooking and baking, working on family genealogy, and visiting with family, friends, and neighbors. Rita's mind was sharp as a nail. Rita would remember everyone's birthdates, anniversaries, and would even remember what food was served for a meal at a someone's wedding. She baked and decorated wedding cakes, birthday cakes, confirmation cakes and was known for her "pink elephant" cakes.
Survivors include her children, Sharon Kregel, Ladson SC, Sandy Coleman, Monona, Julie Kregel, Decorah, Scott (Denise) Kregel, Monona, Neil (Kim) Kregel, Waterville, Rhonda (Loren) Ihde, Fayette, L'Dean (AnnMarie) Kregel, Champaign, IL; twenty grandchildren; thirty-two great-grandchildren; one sister, Norma Engelken, Dyersville; two brothers, Robert (Betty) Jaeger, St. Catherine's and Roland Jaeger, Ladson, SC; sister-in-law, Eileen Jaeger, Guttenberg; brother-in-law, Don (Jane) Kregel, Luana; many nieces and nephews; special friends, Germaine Hoeger, Guttenberg, Bonnie Meek, Odon IN, Ellen Jones, Monona and her extended family and friends.
Rita was proceeded in death by her husband, Eldon; sons-in-law, Carl "Bo" Pash and Alan Coleman; parents, Albert and Lucille Jaeger; siblings, Lorraine (Adolph) Wolter, Dorothy (Russell) Cole, George (Francis) Jaeger, Don (Wilma) Jaeger, Joseph Jaeger, Evelyn (Elmer) Scherbring, Raymond Jaeger, Walter Engelken, Susie Jaeger, Shirly Jaeger, Vicki Jaeger and Reva Mae Jaeger; her in-laws, Gustav and Martha Kregel, Gerald Kregel (in infancy), Gordon and Lavon Kregel and special friends LaVilla Onsager and Rose Vlazny.
Special thank you to Gundersen Palmer Lutheran Home Health and Hospice and the wonderful staff for your loving care and support.
A Private Mass of Christian Burial will be at St. Patrick Catholic Church in Monona, Iowa with Rev. Chris Podhajsky as the celebrant.
Burial will take place at St. Patrick Catholic Cemetery in Monona, Iowa.
Leonard-Grau Funeral Home and Cremation Service of Monona, Iowa is assisting the family with arrangements.