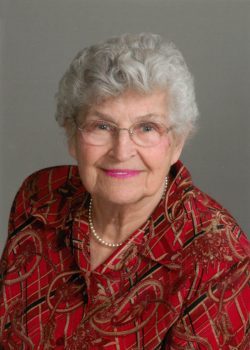 Dorothy Elaine Heins, 86, of Monona, Iowa died Monday, September 6, 2021 at Good Samaritan Society in Waukon, Iowa where she was taken August 26 for care. Dorothy was born the daughter of Louis and Winnifred (Dull) Wagner in Giard, IA on December 31, 1934 on a farm east of Monona. The couple later settled on a farm north of Luana. She received her education at the Luana school.
Dorothy was married to Luther H. Heins on December 8, 1951 at the Luana Methodist Church. Four children were born to this couple. They purchased the homestead farm from Louis (father) Wagner and farmed until 1975 where they settled in Monona. Luther passed away on September 18, 1996. Dorothy was baptized at the Monona Methodist Church and remained a life long member of the church and the United Methodist Women (UMW). Dorothy served the church in multiple roles.
Dorothy worked at the Good Samaritan Nursing Home in Postville, IA, the Monona Wire (Manager), IA, Prairie Living Center, Prairie du Chien, WI, and Jefferson County Schools, Westminster, CO. She was active in community volunteer, specifically Clayton County Substance Abuse, EMT, Meals on Wheels, Head Start, Food Banks, American Cancer Society Fund Drive for which she received the Iowa Governor Volunteer Award.
Surviving Dorothy are son, Jeff (Betty) Heins; daughters, Amy (Wade) Parnes-Bickel and Annette (Michael) Ferrari; grandchildren, Penny (Ryan) Cunningham, Patricia (Erik) Sorbo, Candace (Cory) Drahn, Crystal (Aaron) Buzza, Tiffany (Christian) Mangelsen, Tyler Heins, Olivia (Ian) Reed, Jacob Heins and Ryan Schmiechen; sixteen great grandchildren, one great-great grandson, and a host of nieces and nephews.
Preceding her in death were her husband, Luther Heins; son, Jerome Heins; granddaughter, Kendra Schmiechen; sisters, Doris Murphy, Donnafred Hinman and Darlene Russett; nephews, Bradley and Clark Hinman; friend, Anthony Falsetto, and numerous brothers-in-law and sisters- in-laws
Dorothy was passionate about her family and spending time with them. She loved all sports and school functions, hiking the Colorado mountains, traveling, dancing and music.
In lieu of flowers donations may be made to Crossing Rivers Hospice, Prairie du Chien, WI, Monona City United Methodist Church, Monona, IA, and Good Samaritan Nursing Home, Waukon, IA.
Visitation will be held from 4-7 pm on Friday, September 10, 2021 at Leonard-Grau Funeral Home and Cremation Service in Monona, Iowa. There will also be a one hour visitation before services at the church on Saturday.
Funeral Service will be at 10:30 am on Saturday, September 11, 2021 at United Methodist Church in Monona, Iowa with Pastor Nathan Ferguson as the officiant.
Inurnment will follow at Monona Cemetery, Monona, Iowa.
Leonard-Grau Funeral Home and Cremation Service of Monona, Iowa is assisting the family with arrangements.