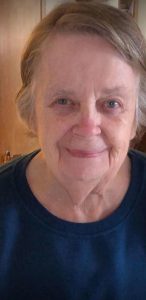 Janet Ruth Deeney, 85 of Marion, Iowa died Tuesday, September 20, 2022 at her home in Marion. Janet was born May 1, 1937 in Postville, Iowa, the only child of Harry L. and Ann E. (Anderson) Overeen. She attended school in Postville and continued her education at Iowa State Teachers College in Cedar Falls, Iowa. Upon graduation in 1957, Janet became a kindergarten teacher in Keystone, Iowa. She would meet the love of her life, Richard F. Deeney at the Hiedelberg in Luana, Iowa in the summer of 1959. They were united in marriage in 1961 and settled and raised a family in Marion, Iowa. Janet eventually returned to the education community, working as a librarian and media aide specialist for Mentzer Elementary and Marion High School, retiring in 1993.
Janet was a warm and loving wife, mother, grandmother and great-grandmother. Her greatest pride and joy were her family. She was an avid Iowa Hawkeye Fan and loved spending time watching the birds and squirrels in her yard, and never turned down the nightly ice cream bar Richard would pull from the freezer.
Janet is survived by her husband, Richard; four children, Dennis (Bobbie) Deeney of Kansas City, Missouri, David (Cathy) Deeney of Springville, Iowa, Denise Deeney of Urbandale, Iowa and Debra (David) Zwank of Adel, Iowa; thirteen grandchildren, Amanda, Chelsea, Erica, Derek, Dylan, Cailyn, Elizabeth, Nathan, Melissa, Jennifer, Emily, Jakob and Holland; two great-grandchildren, Caden and Quincy. Janet was preceded in death by her parents.
In lieu of flowers, contributions and donations can be made in Janet's memory to Hospice of Mercy.
https://www.mercycare.org/services/hospice
Visitation will be from 12:00 pm to 1:00 pm on Sunday, September 25, 2022 at Schutte-Grau Funeral Home and Cremation Service in Postville, Iowa.
Graveside Service will be at 1:30 pm on Sunday, September 25, 2022 at Postville City Cemetery in Postville, Iowa with Pastor Karla Johnson as the officiant.
Schutte-Grau Funeral Home and Cremation Service of Postville, Iowa is assisting the family with arrangements.