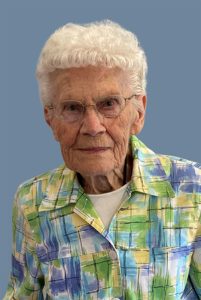 Jeanette Leona Walch, 94, of Luana, Iowa passed away on Monday, November 7, 2022 at Palmer Lutheran Health Center in West Union. Jeanette was born August 20, 1928 to Fred and Amanda (Doerring) Becker in Clayton County. Jeanette was baptized at the St. Paul Lutheran Church in Postville, Iowa and confirmed July 19, 1942. She attended Eno Country School until the eighth grade. Jeanette grew up in a family of five girls.
Jeanette was united in marriage with Ewald Walch on September 29, 1952. Two children were born to this union, Loren and Brenda. Jeanette and Ewald farmed side by side doing everything together from milking cows to baling hay, sorting pigs, and picking up eggs. There was never a cross word between the two of them. A love that could be seen. One highlight in Jeanette's life is when her and Ewald built their house in Luana in 1978. Jeanette enjoyed square dancing, card clubs, Franklin Homemaker's Club, helping Ewald with wood projects, embroidery, and baking.
Whenever her children, grandchildren, and great grandchildren would visit, they would be sent home with a plate of homemade cookies or bars. Even at the age of 94, seeing the grandkids and great-grandkids was a special time for her. She was proud to see who they were becoming to be. Every year when the grandkids were small, they would take them out for a day outing. Driving out to the farm was always a highlight seeing what was going on.
Jeanette is survived by her two children, son, Loren (Denise) Walch, Postville, Iowa  and  daughter, Brenda (Leo) Schroeder, Castalia, Iowa; four grandchildren, Kurt (Allison)Walch, Monona, Iowa, Katie (Kevin) Tilson, Luana, Iowa, Sarah (Jeff) Brincks, Ossian, Iowa and Emily (Derk) Radloff, Luana, Iowa; great-grandchildren, Kaylee, Brock, Maddux, Kaleb, Karli, Kyle, Jarett, Jessa, Landen, and Blair; sister, Gladys Sampson; sister-in-law, Laura Lenth; brother-in-law, Harlan Walch; and many nieces and nephews.
Jeanette was preceded in death by her parents, Fred and Amanda Becker; husband, Ewald Walch; grandson, Brent Schroeder; siblings and in-laws, Ivanelle and Lorenz Kuhse, Helen and Lloyd Everman, Margenelle and Orlando Moeller, Daryl Sampson, Eugene and Lillian Schutte, Marilyn Walch, and Alvin Lenth.
Visitation will be held from 4:00 pm to 7:00 pm on Monday, November 14, 2022 at St. Paul Fellowship Hall in Postville, Iowa. There will also be a one hour visitation before services at the church on Tuesday.
Funeral Service will be at 10:30 am on Tuesday, November 15, 2022 at St. Paul Lutheran Church in Postville, Iowa with Rev. Lynn Noel as the officiant.
Burial will follow at Postville Cemetery, Postville, Iowa.
Leonard-Grau Funeral Home and Cremation Service of Monona, Iowa is assisting the family with arrangements.