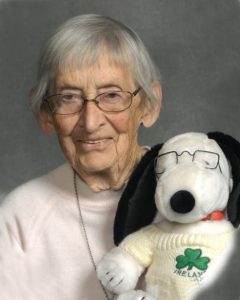 Rachael Kathleen Engelhardt, 97, of Elkader, passed away Sunday, November 12, 2023 at MercyOne Elkader Medical Center.
Rachel Kathleen (Connor) Engelhardt was born March 15, 1926, on the family farm in rural Elkader, the eldest child of Lester and Ronilla (Schoulte) Connor.
She attended country school and graduated from St. Joseph's Catholic High School. Rachel went on to attend Elkader Junior College, then taught country school until she married.
Rachel and Lester Engelhardt were united in marriage at St. Mary's Catholic Church in McGregor on July 15, 1947. Rachel and Lester had two children, David and Diane. They lived on the farm outside of Farmersburg until Lester's untimely death in 1964. Rachel and the kids moved to the house in Elkader after school was out in 1965.
Rachel held a variety of jobs while raising her two children, starting at Central Community Hospital. Although each job she held was special for her, the one that she enjoyed the most was working for Dr. A.R. Powell until his retirement. Her most cherished job was as St. Joseph Catholic Church.
Rachel also loved kids and babysat for countless children in and around Elkader. Once Rachel's children left home there was no empty nest as she "rented" rooms to many who became her second family.
Rachel was preceded in death by her parents; her husband Lester; her sisters Eileen (Erwin Ruff); Roni (Keith Reisen), Marilyn, Carolyn and her brother Eugene (Shirley).
Surviving are her son David (Bendene) of Cody, Wyoming; daughter Diane (Mike) of Cedar Rapids, Iowa; granddaughter Nicole (Matt) Hughes; great-granddaughter, Kylie  and great-grandson, Kannon of Council Bluffs, Iowa; her fur-baby Wilson; numerous beloved nieces; nephews and many, many friends.
Mass of Christian Burial: 2 PM – Sunday, November 19, 2023, at St. Joseph Catholic Church in Elkader with Rev. John Haugen presiding.
Visitation: 1 PM until Mass time Sunday, November 19, 2023, also at St. Joseph Catholic Church
Interment: St. Joseph Catholic Cemetery, Elkader
Leonard-Grau Funeral Home and Cremation Service is assisting the family.