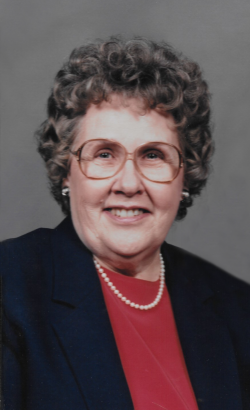 Leila Klinkenberg, 94, formerly of St, Olaf, IA, died Monday, October 14, 2019, at the Kahl Home in Davenport, IA. She was born at home on the farm to Arno and Leona (Lenth) Glawe on April 29, 1925. She attended a small country school and graduated from Farmersburg High School in 1942. When not at school, Leila would work on the farm.
She was united in marriage to Richard Klinkenberg on January 19, 1948 at Zion Lutheran Church, Clayton Center, IA. The couple farmed near St. Olaf, retiring in 1988. Leila and Richard were the parents of two children, Deborah and Jerry.
Leila was an avid Hawkeye fan, following Iowa football and basketball. She also enjoyed watching Iowa State when they were not playing each other. She enjoyed working in her vegetable and flower gardens and attending craft shows. She loved watching birds.  Camping with her husband, other family members, and friends was a favorite activity.  An avid traveler with Richard, Leila visited Florida, New York, Washington D.C., St. Louis, Branson, went fishing in Minnesota, and had family vacations in Yellowstone, Black Hills in South Dakota, Rocky Mountain National Park and the Wisconsin Dells.  Family reunions with Richard's many cousins were held both in Iowa and South Dakota.  Above all, she enjoyed spending time with her family. The grandchildren would all take turns visiting her on the farm each year as their summer vacation.  Two cats at the farm were also an important part of her life; she loved them very much.
Survivors include her children, Deborah K. Neels of Clinton and Jerry (Deanna) Klinkenberg of Davenport; nine grandchildren; nineteen great-grandchildren; nieces and nephews; one sister Imogene (Ivon) Ihlenfeldt of Monona and brother-in-law, Lee Klinkenberg of McGregor.
Leila was preceded in death by her parents; her husband, mother and father-in-law, Lucy and Carl Klinkenberg, brother and sister-in-law, Orval and Betty Klinkenberg and sister-in-law, Iva Klinkenberg.
Memorials may be made to Peace United Church of Christ in Elkader.
Funeral Service: 2:00 PM Sunday, October 20, 2019, at Peace United Church of Christ in Elkader with Rev. Jon Haack officiating.
 Visitation:  One hour before service time at the church on Sunday
 Interment: East Side Cemetery, Elkader
Leonard-Grau Funeral Home & Cremation Service of Elkader is assisting the family. Online condolences may be left with www.graufuneralhomes.com