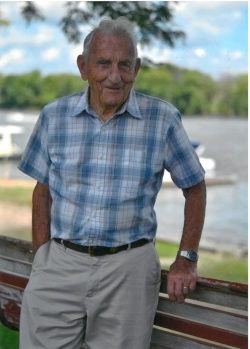 Milton "Mit" Wilde, 98, of Lansing, Iowa died Monday, October 28, 2019 at Gundersen Health System in La Crosse, Wisconsin.  Milton Garvin was born March 30, 1921 to Alvin Arthur and Ruth May (Steele) Wilde in New Albin, Iowa. He graduated from Lansing High School in 1938. Mit joined the Army Air Force in January 1942 and served until November 1945. He reached the rank of Sergeant while serving as a radio operator on a C-47 within the 9th Air Force. Mit served overseas in England, France, Luxembourg and Germany.
Milton was united in marriage with Jeanne Kehr on March 23, 1946 in Missouri. Five children were born to this union. Mit worked for the Iowa State Conservation and The Lansing Company. He retired in the spring of 1983. Mit was an avid outdoorsman and enjoyed hunting and fishing. He was a member of the United Methodist Church, Friends of Pool # 9 and was active in the community.
Mit is survived by his children, John Wilde of Quincy, Illinois, Jim (Joey) Wilde of La Crescent, Minnesota, Lyn (Jim) White of Decorah, Iowa, Lee Ann (Doug) Bulman of Oelwein, Iowa and Jerry (Heather) Wilde of Richmond, Indiana; eighteen grandchildren; thirty-three great grandchildren; one niece, Pammie Drant; and four nephews, Mitz Bailey, Bryan Bailey, Steve Bartels and Bill Bartels.
Mit was preceded in death by his wife, Jeanne on November 3, 2003; a grandson, John Wilde; great granddaughter, Poppy Stevens; his parents, Alvin and Ruth Wilde; two brothers, Ralphie and John; one sister, Jean Bailey; and a niece, Sue Bartels.
A Celebration of Life Service will be at 11:00 am on Saturday, November 2, 2019 at United Methodist Church, Lansing, Iowa with Rev. Sedar Shako Wembonyana as the officiant. There will be a one hour visitation before services at the church on Saturday.
Burial will follow at Oak Hill Cemetery, Lansing, Iowa.
Memorials may be made to Friends of Pool # 9, Lansing; the Driftless Area Education and Visitors Center, Lansing; and Oak Hill Cemetery, Lansing.
Thornburg-Grau Funeral Home and Cremation Service of Lansing, Iowa is helping the family with arrangements.