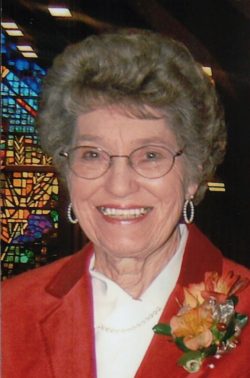 Fern Lorraine (Torsrud) Olson, 92, was welcomed into heaven on Father's Day, June 21, 2020 at Postville Good Samaritan Society in Postville, Iowa. Fern was born Dec. 24, 1927 to Tov and Helga (Nelson) Torsrud in St. Olaf, Iowa. She was baptized February 19, 1928 and was confirmed July 12, 1942 at Norway Lutheran Church in St. Olaf, Iowa. She attended St. Olaf School through the 8th grade and graduated from Elkader High School in 1945. For 2 1/2 years following graduation she was a bookkeeper for the St. Olaf Co-op Co. and the St. Olaf Telephone Co.  She graduated from the Waterloo School of Beauty Culture (Pitzie's) in 1948 and owned and operated her own beauty shop in Clermont for 3 ½ years.
Fern was a social, cheerful person who always saw the best in everyone! She grew up loving to dance to her dad's accordion when he would play "Norwegian songs" by ear. When she was 16 she started dating another Norwegian, Marion (Ole) Olson from Gunder. They enjoyed dancing to the Big Bands (especially Glenn Miller) at local dance halls and "The Surf Ballroom" in Clear Lake, Iowa. On January 2, 1949 Fern married Ole, the "love of her life", at Norway Lutheran Church in St. Olaf, Iowa.
Ole and Fern moved from Clermont in 1952 to Monona, Iowa to open their own Jewelry store, Olson's Jewelry, which they enjoyed operating for 48 years! Fern enjoyed being the bookkeeper for the business, stringing pearls, waiting on customers to find the "perfect" gift and making bows to top the beautifully wrapped Olson's Jewelry packages. She especially enjoyed decorating the windows and store for the change of seasons. She took great pride in being one of the first businesses in town to be all decorated for Christmas and one of the last ones to close on Christmas Eve so the late Christmas shoppers could still get a "treasured" gift.
In 1959, Marion and Fern built their home in a great neighborhood on West Center Street in Monona where they raised their three children, Carol, Mary Jo and Jim. Fern loved children! She was a Cub Scout den mother, 4-H leader and always delighted in having kids come to her house to play or "hang out." The neighbor kids, grandkids and great-grandkids have sweet memories of playing games at the Olson household. She had a knack for making things "fun" and she was always ready to play grocery store, hide-and-seek, board games and of course, cards. She had fun planning "mystery trips" for her ten grandchildren and all of them fondly remember the "buttered" popcorn parties and gum in the cupboard. She loved attending their school events and made each and everyone feel "special". She always encouraged them and made them feel like there was nothing they couldn't accomplish.
Fern was a wonderful cook and baker! She loved planning and preparing delicious meals and desserts for her family and friends.  Everyone knew … "Everything's better with Mrs. Olson's mountain grown coffee. It's the richest kind!"  She always wrote out her menus to make sure she served everyone's personal favorites. She took great pride in her Norwegian heritage and her family especially enjoyed her lefse, flatbread and rommegrot at Christmas time.
Fern accepted Jesus as her personal Savior at a young age and loved sharing that love with others. She was a "Woman of Faith" who studied the Bible and was active in her church. She especially enjoyed teaching 2nd graders, singing in the choir, sewing and tying quilts, putting together layettes, "Doing Days", Grace Circle and Bible studies.  She was proud to be a charter member of Faith Lutheran Church in Monona, Iowa.
Fern loved golfing and would go out to Tri-City Golf Course in Luana every Ladies Day to enjoy golfing with her friends, a delicious lunch, and a good game of cards. She loved playing bridge and getting together with "the girls", the neighbors and the Couples Club for lots of laughter and fun. They had many hilarious, creative, "themed" parties through the years.  Laughter was always plentiful and many Ole and Lena jokes were shared!
God richly blessed Fern in many ways. She grew up in a Christian home and created wonderful memories of living in the small, friendly communities of St. Olaf, Clermont and Monona. She and Ole were honored to be the 2000 Monona German Fest Senior Citizen Queen and King and the 2018 Monona Hay Days Queen and King. She loved what she did and like Paul Harvey said, "If you love what you do, you will never work another day of your life." She and Ole worked side by side and were able to celebrate over 70 years of marriage. She was able to attend all ten of her grandchildren's weddings and delighted in going onto the dance floor with Ole for the "Anniversary Dance". They got a kick out of winning it every time! She lovingly sewed a beautiful quilt for each grandchild's high school graduation. She got to love and cuddle her 17 great-grandchildren and even had one, Gemma Fern, named after her! She was looking forward to one more to be born any day! She was able to travel and scrapbook her adventures to all 50 states. She even got to enjoy golf all year round at Sinton, Texas where they spent the winter months in their small motorhome. In 1974, Ole and Fern went on her "dream trip to Norway" where she got to spend time with her father's family and tour his homeland. She also traveled to London to stay with her pen pal, Peggy, who she corresponded with for 77 years! Fern was blessed to worship with her Faith Lutheran church family in their beautiful new church. Most importantly, her home was filled with love and laughter, and God was the center of her life.
Cherishing her legacy of a deep faith, a servant's heart, a positive attitude, a hard work ethic, laughter, a beautiful smile and sparkling eyes are daughter and son-in-law, Carol and Jeff Akey of Hiawatha, IA, daughter and son-in-law, Mary Jo and Larry Moore of Postville, IA, son and daughter-in-law, Jim and Darla Olson of Chanhassen, MN; ten grandchildren, Amber (Layne) Stark of Cedar Rapids, IA, Ryan (Dani) Allan of Ames, IA, Eric (Kelsey) Allan of Des Moines, IA, Jacob (Lindsey) Moore of Ames, IA, Andy (Emily) Moore of Waukon, IA, Mike (Beth) Moore of West Des Moines, IA, Matthew (Beca) Moore of Cedar Rapids, IA, Nicholas (Kristina) Olson of Chanhassen, MN, Anna (Brian) Gradwohl of Ann Arbor, Ml, Spencer (Hannah) Olson of Madison, WI; seventeen great-grandchildren, Aria, Thea and Alana Stark, Rubi, Wesley and Brady Allan, Gemma Allan, Aubrey, Elise, Charlotte, Jackson, Maxwell, Abigail, Gabriel and Lucia Moore, Micah Olson and Everett Gradwohl; sisters-in-laws, Jan Olson, Belva Olson and Donna Torsrud and many nieces and nephews.
Fern's family will be forever grateful to their Faith Lutheran family, the Good Samaritan Society and staff, Dr. Thomas McMullan, Garden View Place, St. Croix Hospice and their many friends and family who showed their love, care and concern for Fern throughout the years.
Fern was joyfully reunited in heaven with the "love of her life", Marion (Ole) Olson; her parents, Tov and Helga (Nelson) Torsrud; brothers, Harold (Betty) Torsrud and Les Torsrud, and many friends and relatives.
Visitation will be held from 4 to 7 p.m. on Thursday, June 25, 2020 at Faith Lutheran Church in Monona, Iowa. There will also be a one-hour visitation before services at the church on Friday.
Memorial Service will be at 11 a.m. on Friday, June 26, 2020 at Faith Lutheran Church in Monona, Iowa with Rev. Mel Harris as the officiant.
Burial will follow at St. Paul Lutheran Cemetery, Monona, Iowa.
We recommend that everyone follows social distancing guidelines.
Leonard-Grau Funeral Home and Cremation Service of Monona, Iowa is helping the family with arrangements.